Kennywood Roller Coaster Hit Milestone
Posted by Sunny News Room on 5/26/2015 9:07:00 AM.
WEST MIFFLIN, PA (AP) — A longtime roller coaster fan has celebrated his 5,000th ride on a historic western Pennsylvania coaster over the holiday weekend. Eighty-two-year-old Vic Kleman celebrated the milestone on Sunday on the Jack Rabbit at Kennywood near Pittsburgh. He also set a personal record of 95 rides in a single day in honor of the coaster's 95th birthday this season.
---
Downtown DuBois Revitalization Group Has Upcoming Meeting
Posted by Sunny News Room on 5/26/2015 8:53:00 AM.
DuBois - The Downtown DuBois Revitalization Groups Beautification/Neighborhood Committee has an upcoming meeting on Wednesday, June 3rd at noon at the Hitching Post. Anyone interested in community improvement (both commercial and residential) is invited to attend.
More
---
Erie Teen Charged With Marijuana Possession in Clearfield
Posted by Sunny News Room on 5/26/2015 8:48:00 AM.
CLEARFIELD, PA - An Erie teen will be charged with marijuana possession after a traffic stop on Interstate 80 in Clearfield County yesterday. Clearfield State Police report that 19-year-old Joanna Ragen was stopped for a vehicle code violation and was found to be in possession of marijuana. Charges will be filed in district court.
---
Starr Hill Winery Moving Inside Walmart in DuBois
Posted by Sunny News Room on 5/22/2015 8:53:00 AM.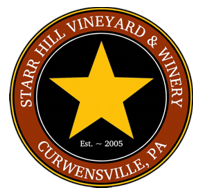 DUBOIS, PA - It's a historical moment for one local small business and one of America's largest store chains as Walmart in DuBois prepares for Starr Hill Winery to open up inside. The new store will have over 30 wines to choose from, from dry to sweet.
More
Starr Hill, Walmart, DuBois
---
Western Pennsylvania Man Dead
Posted by Sunny News Room on 5/22/2015 8:50:00 AM.
BUNOLA, PA (AP) — A western Pennsylvania man is dead, with his nephew reportedly shot and critically wounded by police after allegedly breaking into his uncle's home Wednesday afternoon. Allegheny County police say Billy Joe Richter was shot to end a standoff that saw him firing at officers for several hours. He remains hospitalized with a wound to the chest.
Allegheny, Man, Dead
---
Ridgway Brush Fire Spread to Unoccupied Home
Posted by Sunny News Room on 5/22/2015 8:45:00 AM.
A Ridgway man has been charged for burning brush that spread to an unoccupied home that he owned that was scheduled for demolition. State Police in Ridgway say that 43-year-old Robert Lilley was burning brush when the fire spread to a building in Dagushonda in Elk County.
More
Ridgway, Brush Fire, Lilley
---
DuBois Police Investigating Harrassment Case
Posted by Sunny News Room on 5/22/2015 8:38:00 AM.
DUBOIS, PA - The DuBois City Police are investigating a case of harrassment. The man advised police that while he was walking in the area of N. Franklin St. a known man riding a bicycle started to follow him. He stated that man yelled at him and stated that he was going to "beat him up and kill him". The investigation continues and charges are pending.
DuBois, Harrassment, Police
---
Four Taken To Hospital After One Vehicle Crash
Posted by Sunny News Room on 5/21/2015 8:36:00 AM.
CLEARFIELD COUNTY, PA - Four people were taken to the hospital after a one vehicle crash in Clearfield County.It happened on Six Mile Road in Decatur Township around 10:30 p.m. Tuesday.
Police say Dalaney Derdel, 19, was driving at a high rate of speed, with three others in the car, when she lost control of her vehicle, hit an embankment, and landed in a field.
More
Clearfield, Crash, Derdel
---
Jefferson County Man Killed in Bizarre Accident
Posted by Sunny News Room on 5/21/2015 8:29:00 AM.
REYNOLDSVILLE, PA - Authorities say a Jefferson County man was killed in a bizarre accident involving his lawnmower. It happened at around 7:15 p.m. Tuesday in the 900 block of Grant Street in Reynoldsville. Authorities said 74-year-old Harry Yohe got his lawnmower stuck on a hillside.
More
Yohe, Killed, Accident
---
Meeting At Tri County Church to Discuss Future of Fire Companies
Posted by Sunny News Room on 5/20/2015 8:23:00 AM.
DUBOIS, PA - There will be a public meeting at the Tri County Church on May 26, 2015 at 7 PM to discuss the future of the Sabula and Treasure Lake Fire Companies. Anyone interested in future plans for the fire protection of property owners of Sandy Township and surrounding areas are encouraged to attend this meeting.
Sabula, Treasure Lake, Tri County Church
---
Next Entry