Posted by Sunny News Room on 2/27/2015 12:11:00 PM.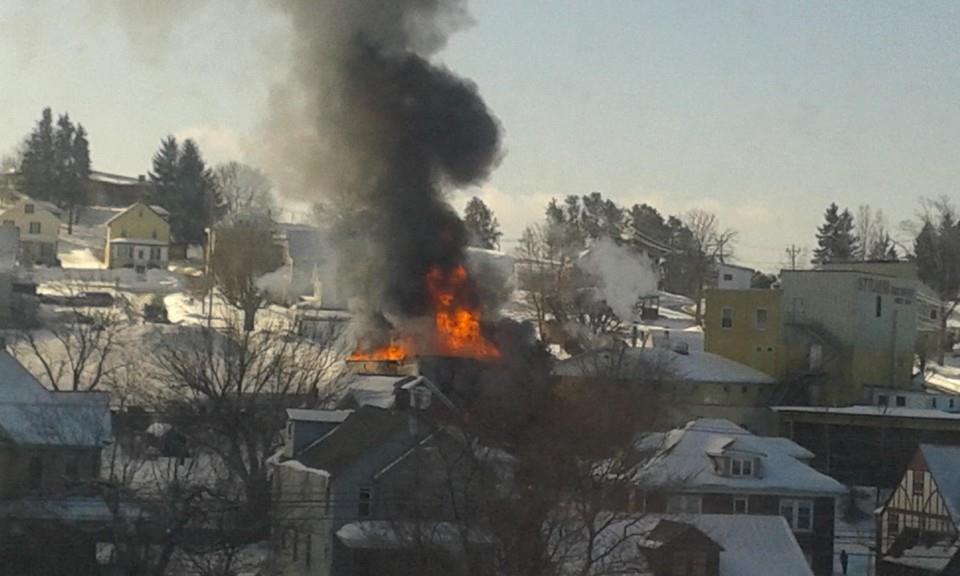 ST. MARYS, ELK COUNTY - Crews were battling a four alarm fire at Straub Brewery on Sorg Street in St. Marys. The fire broke out just after 9 o'clock Friday morning, and is believed to have started in the computer room/maintenance building directly behind the actual Brewery. Fire Fighters from several Counties were involved and acted quickly to contain the fire to just that building inside the Straub Complex.
Straub, Fire, Saint Mary's, Brewery
---
Keystone Pipeline Vetoed By The President
Posted by Sunny News Room on 2/24/2015 5:03:00 PM.
WASHINGTON, D.C. - The bill on the Keystone Pipeline in hit the president's desk Monday morning. The bill passed through both the senate and the house with bipartisan support. The Keystone XL oil pipeline would be about 1,200 miles, running from Canada through the United States. Supporters of the bill say it would add 13,000 jobs. Despite bipartisan support, the President Vetoed the bill today.
Pipeline, Vetoed, President, Bill
---
Elderly Woman Bound And Assaulted
Posted by Sunny News Room on 2/23/2015 12:15:00 PM.
CLEARFIELD COUNTY, PA – A 77 year old Morrisdale woman was bound and assaulted at her home in Graham Township Clearfield County. State Police report that the suspect assaulted the woman, then stole her purse and her 2009 Chevrolet Impala and fled the scene. The Suspect is a white male, approximately 5 feet 10 inches tall, medium build with short brown hair, wearing boots,
More
Morrisdale, Assaulted, Bound, Police
---
Philipsburg Man Sentenced
Posted by Sunny News Room on 2/23/2015 12:05:00 PM.
CLEARFIELD, PA – A 23 year old man accused of having sex with a 13 year old girl has pleaded guilty in Clearfield County Court. Donald Thomas Reid of Philipsburg plead guilty to involuntary deviate sexual intercourse, statutory sexual assault, aggravated indecent assault and corruption of minors. He was sentenced to five to 10 years in state prison. This sentence will run concurrent with
More
Philipsburg, Minor, Prison, Reid
---
Cold Weather Affecting Many
Posted by Sunny News Room on 2/23/2015 10:48:00 AM.
DUBOIS, PA - At least 23 people died last week in the United States due to winter weather, sources confirmed.18 of those deaths occurring in Tennessee. Dangerously cold conditions continue to grip a large part of the Eastern United States with more than 125 million Americans under a
More
Cold, Deaths, Wind Chill, Advisory
---
Brookville Male Cited For Disorderly Conduct
Posted by Sunny News Room on 2/23/2015 10:36:00 AM.
BROOKVILLE, PA – Police warn residents to drive with caution during wintery weather conditions, or you will be cited. Just like 21 year old John Teeter of Brookville, who was cited over the weekend for doing power breaking burnouts while turning his vehicle at East Main Street and Pickering Street in Brookville. Teeter was cited for disorderly conduct,
More
Brookville, Cited, Conduct, Driving
---
Sandusky's Attorney Charged
Posted by Sunny News Room on 2/22/2015 9:11:00 AM.
CARLISLE, PA - An attorney who represented former Penn State assistant football coach Jerry Sandusky at his sex abuse trial has been charged with stealing more than a half-million dollars from clients and spending it on casino gambling and other personal interests. Reports state Cumberland County detectives filed 25 charges of theft and misappropriation of funds against Karl Rominger.
More
Rominger, Gambling, Penn State, Charges
---
Big Ten Look To Make Freshman Ineligible
Posted by Sunny News Room on 2/22/2015 9:08:00 AM.
ROSEMONT, IL - The Big Ten is studying whether freshmen athletes should be ineligible to compete while they adjust to college life. The league said Friday it has reached out to members to see if they are interested in beginning a national discussion regarding a year of readiness for student-athletes. The Big Ten says it has provided background information to its schools, but no proposals have been made.

Big Ten, Ineligible, Freshman, College
---
Posted by Sunny News Room on 2/20/2015 4:07:00 PM.
PHILIPSBURG, PA - State police in Centre County are searching for the gunman who robbed a food delivery man. It happened Wednesday in the parking lot behind the Main Won Chinese Kitchen restaurant in the 200 block of N. Main Street in Philipsburg. State police said the robber pointed the gun at the victim and stole $50 before running away on Second Street. If you know anything about this case, call the police immediately.
Philipsburg, Gun, Chinese, Gunman
---
Child Endangerment Charges Filed
Posted by Sunny News Room on 2/18/2015 12:08:00 PM.
DELANCEY, PA- Penn State Police in Punxsutawney are investigating incidents of endangering the Welfare of Children and Act 64 violations. 40 year old Thomas Fenstermaker, 36 year old Leanne Clark, and 22 year old Kimberly Fenstermaker all of Delancey, Pa. are accused of engaging in drug related activity in the presence of 3 minors, ages ranging from 15 years old to 6 months old, while
More
Delancey, Fenstermaker, Marijuana, Minors
---
Next Entry