Council Member Behind Bars
Posted by Sunny News Room on 3/2/2015 3:04:00 PM.
CLEARFIELD, PA – One Clearfield Borough Council member will be spending time behind bars. 47 year old Richard Dean Stewart plead guilty to terroristic threats, simple assault, disorderly conduct and harassment Friday. He's been sentenced to 15 days to 1 year in jail and one year consecutive probation. These charges stem from the August 5th incident were as Stewart assaulted a woman,
More
Clearfield, Council, Jailed, Stewart
---
How Wolf Will Regulate Natural Gas
Posted by Sunny News Room on 3/2/2015 2:58:00 PM.
HARRISBURG, PA - The coming days will provide the first glimpse at how Governor Tom Wolf's administration wants to regulate the natural gas industry. Wolf's Department of Environmental Protection is expected to release its plan this week to toughen rules over how the industry prevents methane leaks and how it stores toxic drilling wastewater in open-air pits.


Wolf, Gas, Methane, Toxic
---
Attempting Kidnapping Charges Filed
Posted by Sunny News Room on 3/2/2015 2:56:00 PM.
NEW ENTERPRISE, BEDFORD COUNTY – A Bedford, PA man is jailed on attempting kidnapping charges. Bedford State Police say Todd Ferry of New Enterprise attempted to force a 17-year-old New Enterprise female into his pick up truck along Potter Creek Road in Bedford County
More
Bedford, Kidnapping, Charges, Ferry
---
Posted by Sunny News Room on 3/1/2015 9:55:00 AM.
JOHNSTOWN - Police say there was an attempted robbery at Orian Jewelers on Lyter Drive in Johnstown. West Hills Regional Police say two suspects entered the store. The one locked the doors, while the other suspect walked to the rear, displayed a BB gun, and demanded cash. One man got into a confrontation with the suspect who had a gun but that man was able to disarm the
More
Robbery, Johnstown, Police, Orian
---
Posted by Sunny News Room on 3/1/2015 9:51:00 AM.
MONROEVILLE, PA - The former head of a Pittsburgh-region hospice has been indicted on fraud charges. Mary Ann Stewart allegedly used patients who weren't terminally ill to collect millions of dollars in false Medicare and Medicaid billings. She's the second Horizons Hospice-Monroeville official to face charges.
Hospice, Horizons, Patients, Monroeville
---
Posted by Sunny News Room on 2/27/2015 12:11:00 PM.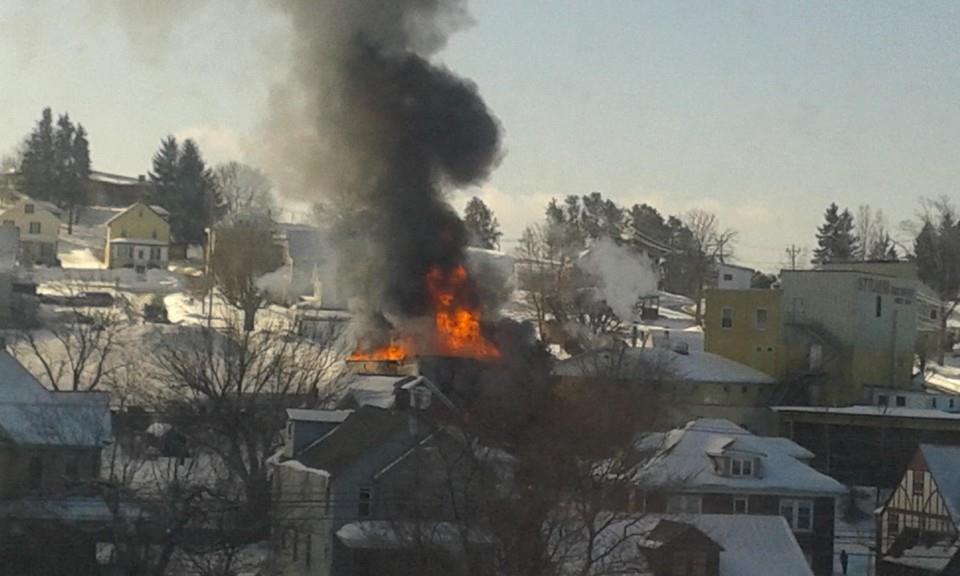 ST. MARYS, ELK COUNTY - Crews were battling a four alarm fire at Straub Brewery on Sorg Street in St. Marys. The fire broke out just after 9 o'clock Friday morning, and is believed to have started in the computer room/maintenance building directly behind the actual Brewery. Fire Fighters from several Counties were involved and acted quickly to contain the fire to just that building inside the Straub Complex.
Straub, Fire, Saint Mary's, Brewery
---
Keystone Pipeline Vetoed By The President
Posted by Sunny News Room on 2/24/2015 5:03:00 PM.
WASHINGTON, D.C. - The bill on the Keystone Pipeline in hit the president's desk Monday morning. The bill passed through both the senate and the house with bipartisan support. The Keystone XL oil pipeline would be about 1,200 miles, running from Canada through the United States. Supporters of the bill say it would add 13,000 jobs. Despite bipartisan support, the President Vetoed the bill today.
Pipeline, Vetoed, President, Bill
---
Elderly Woman Bound And Assaulted
Posted by Sunny News Room on 2/23/2015 12:15:00 PM.
CLEARFIELD COUNTY, PA – A 77 year old Morrisdale woman was bound and assaulted at her home in Graham Township Clearfield County. State Police report that the suspect assaulted the woman, then stole her purse and her 2009 Chevrolet Impala and fled the scene. The Suspect is a white male, approximately 5 feet 10 inches tall, medium build with short brown hair, wearing boots,
More
Morrisdale, Assaulted, Bound, Police
---
Philipsburg Man Sentenced
Posted by Sunny News Room on 2/23/2015 12:05:00 PM.
CLEARFIELD, PA – A 23 year old man accused of having sex with a 13 year old girl has pleaded guilty in Clearfield County Court. Donald Thomas Reid of Philipsburg plead guilty to involuntary deviate sexual intercourse, statutory sexual assault, aggravated indecent assault and corruption of minors. He was sentenced to five to 10 years in state prison. This sentence will run concurrent with
More
Philipsburg, Minor, Prison, Reid
---
Cold Weather Affecting Many
Posted by Sunny News Room on 2/23/2015 10:48:00 AM.
DUBOIS, PA - At least 23 people died last week in the United States due to winter weather, sources confirmed.18 of those deaths occurring in Tennessee. Dangerously cold conditions continue to grip a large part of the Eastern United States with more than 125 million Americans under a
More
Cold, Deaths, Wind Chill, Advisory
---
Next Entry