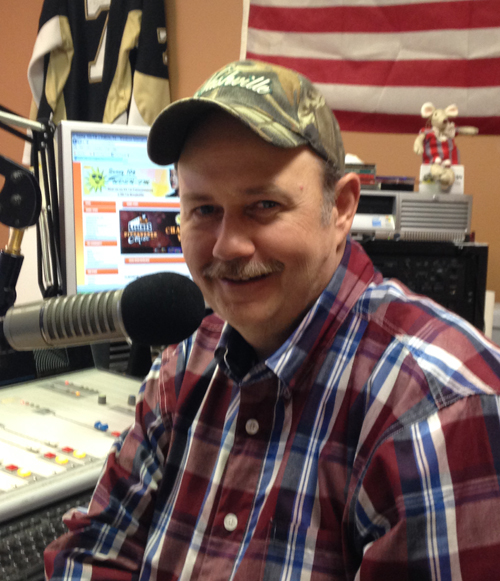 GROWING UP: I WAS BORN IN CLEVELAND, THEN MOVED AROUND TO WASHINGTON COUNTY PA (BELOW PITTSBURGH) AND THE MOUNTAINS, NEAR RIDGWAY. AFTER HIGH SCHOOL, I GRADUATED FROM THE COLUMBIA SCHOOL OF BROADCASTING IN PITTSBURGH.
GETTING INTO RADIO: I USED TO LISTEN TO BOB PRINCE ANNOUNCE THE PIRATES, JACK BOGOUT ON KDKA, GARY STORMER'S WEEKLY COUNT DOWN ON WCED, GEORGE WILLIAMS WITH THE SPORTS SCOREBOARD SHOW ON Q102, AND TERRY DIETRICK ON WTMX. 1N 1983 MY DENTIST IN ST. MARYS TOLD ME WKBI NEEDED A PART TIME ANNOUNCER. THAT JOB EVENTUALLY BECAME FULL TIME (WEARING MANY HATS). I ALSO WORKED AT Q102, WCED, AND THE HOUND. AFTER BEING OUT OF RADIO FOR 9 YEARS (WITH HEALTH ISSUES) I WAS BLESSED WHEN BARRY MORGAN ASKED ME TO HELP WITH ST. MARYS HIGH FOOTBALL ON WKBI. THANKFULLY NICK SUPLIZIO NICK TOLD ME ABOUT A POSITION AT SUNNY. I GOT THE JOB!
CAREER HIGHLIGHTS: WINNING AWARDS FROM ASSOCIATED PRESS AND PENNSYLVANIA ASSOCIATION OF BROADCASTERS (1992 BROADCAST OF PIAA STATE BASEBALL CHAMPIONSHIP GAME, WITH PITCHER JIM PITTSLEY, ON SUNNY 106). I ALSO LIKE BEING A PART OF MANY BROADCASTS THAT HELP PEOPLE AND ORGANIZATIONS, AND BEING HIRED AND MEETING THE GREAT PEOPLE AT GOODWILL INDUSTRIES IN FALLS CREEK.
FUNNY RADIO STORY: WHEN I WAS DOING A REMOTE BROADCAST IN ST. MARYS AT A "BIG SPORTS STORE" FOR A BIG BUCK CONTEST A SPIKE BUCK MADE AN ENTRANCE INTO THE BACK DOOR. PENNSYLVANIA GAME COMMISSION ARRIVED (THE DEER WAS OK) AND THEY TOOK THE DEER AND RELEASED IT. BUT, I DIDN'T WIN THE CONTEST!
ONE PERSON YOU WOULD LIKE TO MEET: MARIO LEMIEUX
3 DINNER GUEST: JESUS, JOHNY CASH, AND ANGELINA JOLIE
FAVORITE SINGER OR GROUP: BILLY JOEL, ZAC BROWN BAND, AND UNITED "OCEANS"
FAVORITE TV SHOWS: GAME OF THRONES, FRIENDS IN WILD PLACES, AND TOM BOB OUTDOORS ON PURSUIT CHANNEL (WATM-ABC)
WORDS TO LIVE BY: TAKE ONE DAY AT A TIME
FAVORITE FOOD: FIVE GUYS CHEESE BURGERS & FRIES, AND PIZZA
FAVORITE BEVERAGE: SOUTHERN SWEET TEA
HOBBIES: WATCHING WILDLIFE WITH MY WIFE, HEIDI, VISTING THE ELK COUNTRY VISITORS CENTER TO SEE THE ELK (ESPECIALLY DURING THE RUT), TRAVELING TO SEE EAGLES, AND PHOTOGRAPHY.
GREATEST FEAR: GETTING STUNG BY HORNETS
CHARITY OF CHOICE: ANYTHING FOR VETERANS, FAMILIES, AND CHURCH
SOMETHING ABOUT YOU THAT WOULD SURPRISE SUNNY 106 LISTENERS: I'VE BEEN A GAS STATION ATTENDANT, PART TIME BARTENDER, COVERED WINTER SPORTS FOR THE COURIER EXPRESS FOR ONE SEASON, AND WORKED IN A POWDERED METALS PLANT. I ONCE WORKED FOR TWO DIFFERENT STATIONS AT ONE TIME: ONE PART TIME IN WILLIAMSPORT, AND ONE FULL TIME AT A STATION NEAR CANTON, PA. I HAD TWO DIFFERENT AIR NAMES, HAHA!