Program and DJ Information
| | | |
| --- | --- | --- |
| Lori Lewis | Morning DJ | 7:30 - 9am |
| Brian Ruane | Morning DJ & Program Director | 6am - Noon |
| Kevin Brown | Retro Lunch Hour & WCED Crew | 12pm - 1pm |
| Lou Jordan | Midday/Evening DJ | 1pm - 7pm |
| Marty McMillen | Part Time | |
| Rob Green | News Director | |
---
DJ Bios and Contact
---
Lori Lewis | 7:30 - 9am
CLICK HERE FOR LORI'S Q&A
When you "Rise and Shine" in the morning, the first voice you hear is likely to be that of the Sunny 106.5 Morning Show host Lori Lewis. Lori is entertaining, informative, and fun, always getting your day off to a great start.
A native of Bradford, PA, Lori has been in radio since 1990. She began her career in broadcasting as an intern while a student at the University of Pittsburgh at Bradford. Her next move was to become the News Director at WESB/WBRR in Bradford. In 1993 Lori joined the Sunny 106.5 family as News Director. Since starting with Sunny 106.5 Lori has been the Program director, and is currently the Station Manager, along with Morning Show hosting duties. You can catch her "Live" during her remote broadcast assignments.
Lori enjoys boating, fishing, movies, weekend get-a-ways, and good friends. Lori has been a member of the DuBois Rotary Club for many years. Lori lives at Treasure Lake with husband Sam and daughters Hailey and Sabrina.
---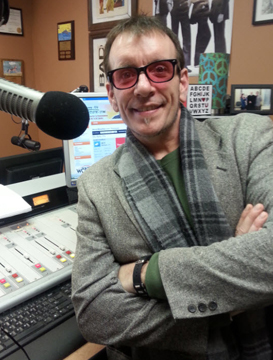 Brian Ruane | 6 AM - Noon
Brian's Bio... coming soon!
---
Rob Green | News Director

Rob's Bio... coming soon!
---
Beth Walters | 11am - 4pm
CLICK HERE FOR BETH'S Q & A
Beth Walters is originally from the land of Frostbite Falls, Minnesota. "I've been lucky enough to come to call tropical DuBois my home. It may not seem like the tropics to a native of DuBois, but when you grow up in the Great White North like I did, any place with temperatures above zero - especially in the summer - is considered tropical by me.
"I fell into this radio thing by accident several years ago, see what can happen when you aren't paying attention! Just goes to show that life is full of surprises. DuBois has been my home now for over 6 years. I can genuinely say that my colleagues and friends here mean more to me than I could've ever imagined."
Beth has a degree in Economics from St. Cloud State University. In addition to handling all the administrative work to keep production moving along at Sunny 106.5, Beth is also part of the production staff. You can catch Beth mid-days for your favorite music and information on the latest "happenings" in our community, all that and a little fun thrown in for good measure. "Carpe' Diem guys…and by the way, Moose and Squirrel say 'Hello'"!
---
Kevin Brown | Retro Lunch & WCED Crew
Kevin's Bio... coming soon!
---
Lou Jordan | 1pm - 7pm
CLICK HERE FOR LOU'S Q & A
Lou moved to Western Pa in 1986 from Pittsburgh. After graduating from Carrick High School in Pittsburgh in 1980, he worked with his Dad at a sport shop in Mt. Lebanon PA. Lou took classes at Community College that included a photography course and then got the radio bug. He enrolled at the Columbia School of broadcasting and interned at WLTJ in Pittsburgh, and has been a part of radio ever since.

Lou started his first radio job with Renda Broadcasting at WPXZ in Punxsutawney in 1986, hosting the evening shift. He then found himself in Johnstown and was on the air at WKYE. From there he got another alias "Jerriahmia Bullfrog" on the Froggy station in Somerset. Eventually he returned to Punxsy and was the morning show jock for WPXZ. KOOL 103 was put on the air in 2000 and "Captain Lou" was the morning show host. He was promoted to Program Director and oversaw all three radio Stations, WKQL, WPXZ and the AM station WECZ.

He was out of radio for a little while and moved down South to work at his family's General Store in Aleppo, PA.

Now after moving to DuBois last April he has joined the crew at Priority Communications doing the Monday to Friday 4:00pm to 9:00pm air shift on SUNNY 106, that includes "The Drive at Five" and also "The Eighties at Eight."
Lou hopes to always be a part of radio, they say if you love what you do you never really work a day in your life, so far that's true!
---
Marty McMillen | Part Time
CLICK HERE FOR MARTY'S Q&A

Marty was born in Punxsutawney and raised in the small town of Mahaffey. He graduated from Purchase Line High School, before graduating from Indiana University of Pennsylvania with a Bachelor's of Science in Communications Media and a minor in Sociology. While at IUP, Marty started his career in radio at WPXZ -FM/WECZ -AM in Punxsutawney doing news and on-air work. He did an internship and was hired part-time on-air at WSHH-FM, Wish 99.7 in Pittsburgh.

Marty was hired full-time at WPXZ/WECZ on-air for 12 years before being promoted to Program Director. He was out of radio for a short stint before being brought on part time here at Sunny 106 and News Talk Radio WCED. Marty plans on continuing to hone his craft, meet that special woman and live life to the fullest. In the words of Marty, "In my world, life is a constant work in progress."
E-Mail Marty