PSU Fans Plan New Statue of Joe Paterno
STATE COLLEGE (AP) — With one Joe Paterno statue in storage, fans of the late Penn State football coach are commissioning a new one to be placed across from the university.
Do You Know How to Save Water?
HARRISBURG - There appears to be some confusion when it comes to water conservation.
Bill for Local Police use of Radar
HARRISBURG-
Senator Randy Vulakovich today introduced Senate Bill 1340, legislation that would allow Pennsylvania's municipal police departments to use radar as a means of speed enforcement.
USDA Awards $6 Million for Climate Change Study
(AP)-The U.S. Department of Agriculture will award $6 million to 10 universities to finance the study of what climate change means to agriculture and strategies for helping farmers and ranchers deal with weather changes.
ICU Received $170,000 Grant
DuBOIS - For the eighth consecutive year, the A.J. and Sigismunda Palumbo Charitable Trust has contributed a major grant to the Intensive Care Unit at Penn Highlands DuBois. This year's grant of $170,000 brings the total contributed to the ICU to $945,000.
Quicker Ruling Sought in Gay Marriage Ban Case
HARRISBURG (AP) — The plaintiffs in a constitutional challenge to Pennsylvania's law banning same-sex marriage are changing strategy and now asking a federal judge to make an immediate decision in their case. A decision on a ruling isn't expected before mid-May.
Governor James Pollock Remembrance Day
The Pennsylvania Senate has adopted a resolution recognizing April 22nd as "Governor James Pollock Remembrance Day" in the Commonwealth. Senator John Gordner of Columbia County said "Former Pennsylvania Governor James Pollock was a great Pennsylvanian who devoted his life to public service."
FOW- Jessica Leinemann
CLEARFIELD – Clearfield County District Attorney, William A. Shaw, Jr., announced Clearfield County's Fugitive of the Week for the week of April 21, 2014.
Shaw identified the Fugitive as Jessica Marie Leinemann, age 25, of South White Street, Brookville, Pennsylvania.
Fracking foes cringe as unions back drilling boom
PITTSBURGH (AP) — After early complaints that out-of-state firms got the most jobs, some local construction workers and union members in Pennsylvania, Ohio and West Virginia say they're now benefiting in a big way from the Marcellus and Utica Shale fracking boom.
Police Searching for a Reynoldsville Man
DUBOIS - The Dubois Based State Police are looking for 25 year old Jeremy Ross of Reynoldsville. Ross is being charged with indirect criminal contempt, protection from abuse order violation and harassment.

A Death in Clarion Under Investigation
CLARION - An investigation has begun into the death of a 74 year old Shippenville man. The Clarion Based State Police report that the man was found deceased in his vehicle, Saturday.

A Hit and Run in Clearfield
CLEARFIELD - The Clearfield Based State Police are looking for the driver of a 2001 Chrysler Sebring, burgundy coupe with a PA license plate jlh2186 involved in a hit and run crash.

College Access and Affordability
HARRISBURG- As college becomes more expensive, it is harder, if not impossible, for underprivileged students from low income working families to continue their education after graduating from high school.
CDC: Numbers of Kids With Autism Surge
HARRISBURG- The numbers of children diagnosed with Autism Spectrum Disorders have surged, according to the latest figures from the Centers for Disease Control and Prevention (CDC), and advocates in Pennsylvania are not overly surprised.
Over 100 New Jobs for Clearfield County
SANDY TOWNSHIP- A Colorado based company is bringing over 100 jobs to Clearfield County. White Wave Food Company decided to purchase the former International Custom Products building on Oklahoma Salem Road in Sandy Township.
Local Movie Theater Saved
CLEARFIELD- The Ritz Theater in Clearfield has been saved. The film industry no longer uses film so theaters have had to upgrade to digital. But the cost of upgrading almost closed the theater.
Work on the 'Blinker Parkway' Intersection
DuBois – Work to improve the Route 119/322 "Blinker Parkway" intersection in Sandy Township will resume on Monday, April 21. When work is finished, area drivers will be able to travel through a wider intersection with improved visibility and enhanced safety.
School Board Asked to Keep Electives
DuBOIS-As the school board works on the budget they must make difficult decisions on what to cut. At last nights DuBois School Board work session concerned parents teachers and students spoke about what programs they believe are too valuable to loose. They asked the board to consider the real value of elective classes and extracurricular activities when deciding where to make funding cuts.
FOW Turns Himself in
CLEARFIELD – Clearfield County District Attorney, William A. Shaw, Jr., announced
the fugitive of the week Kody Clayton Best, age 20, of Daisy Street, Clearfield, turned himself in.

Possible Tax Breaks for Volunteer Fire Fighters
HARRISBURG- Responding to a growing shortage of volunteer firefighters, Senator Lisa Baker (R-20) and Senator Sean Wiley (D-49) have joined forces to introduce a bill to give municipalities the power to waive their local earned income tax for volunteer first responders.
Bill to Help Small Businesses
HARRISBURG-
Speaking at an April 15 press conference in the state Capitol, Senator Scott Hutchinson announced plans to introduce legislation intended to help Pennsylvania's small businesses expand and grow.
Zoning Ordinance Could Stop Drilling
DuBOIS- City Solicitor Toni Cherry presented a possible amendment to the city's zoning ordinance to the council last night, which would prevent drilling in certain zones in the city.
DuBois Police Officers Promoted
DuBOIS- At last night's city council meeting 3 patrol officers were promoted. Officer Orlando Prosper, Officer Matthew Robertson and Officer Randall Young were promoted from to Corporal.
Bridge Open to Traffic on Second Street
BROOKVILLE- The bridge on Route 3033 (Second Street) over Sandy Lick Creek in Brookville Borough will reopen to traffic later today. The bridge was closed Sunday evening due to an 18 inch hole in the deck caused by a piece of concrete becoming dislodged between the beams.
Loss of Charter School Reimbursement
HARRISBURG - Educators say the loss of state funding for helping communities in Pennsylvania accommodate the financial effect of charter schools is translating to larger class sizes, and less money for staff, programs and textbooks.
FOW- Kody Best
CLEARFIELD – Clearfield County District Attorney, William A. Shaw, Jr., announced Clearfield County's Fugitive of the Week for the week of April 14, 2014.
Shaw identified the Fugitive as Kody Clayton Best, age 20, of Daisy Street, Clearfield, Pennsylvania.
President Obama Will Visit PA
HARRISBURG-
The Corbett-Cawley campaign released the following statement from Lieutenant Governor Jim Cawley regarding president Barack Obama and Vice President Joe Biden's visit to Allegheny County next Wednesday.
Court decision cuts state's tobacco revenue loss
HARRISBURG (AP) — The state attorney general's office says a split decision in a Philadelphia court means Pennsylvania loses tens of million dollars in payments from tobacco companies, but avoids an outcome that threatened a $170 million loss.
Utility line removal work on I-80 Sunday
DuBOIS- Utility line removal at mile-marker 106 of I-80, east of DuBois. This work will take place between 8 and 10 a.m. on Sunday, April 13.
Ruling Involving NCAA Penalty Against Penn State
HARRISBURG- Our speaker is Senator John Yudichak of Luzerne County, a graduate of Penn State, who applauds the court ruling and says the NCAA got a One-Two punch from the court.
A Two Vehicle Accident
DUBOIS - The DuBois City Police were called to a two vehicle accident at the 200 Block of South Brady Street Friday night.
5000 Feet of Copper Wire Stolen
CLEARFIELD - The Clearfield Based State Police are investigating the theft of 5000 feet of copper wire valued at $2,500 dollars.
Showers Field is Tobacco Free
DuBOIS-

Showers field is tobacco free. Because the infield is made from synthetic turf, tobacco can damage the field. Smoking and chewing tobacco are not permitted within the fenced in area surrounding the field.The DuBois City Council voted on this decision at last nights work session.
Senate approves "Kelsey Smith Act"
HARRISBURG- The Senate today approved a measure introduced by Senator Randy Vulakovich (R-Allegheny/Butler) intended to save lives by speeding up a process for using technology to locate missing people.
Temporary barrier to be set on Route 255
DuBOIS –
Crews will be working today to set temporary barrier along Route 255 north of I-80.
The barrier is necessary for bridge repair work to take place, as the Route 255 project near the I-80/DuBois 101 interchange resumes Monday, April 14. Drivers need to remain alert for flaggers in the roadway as barrier is set.
Senate Bans Cash Gifts
HARRISBURG– The state Senate today unanimously approved two measures sponsored by Senator Lisa Baker (R-20) to ban cash gifts.
Another Child Protection Bill Passes Senate
HARRISBURG – State Senator Kim Ward (R-39) applauded the General Assembly today for the unanimous passage of her legislation, Senate Bill 21, which clarifies who is a mandated reporter under the PA Child Protective Services (CPS) law and when and how they are required to report suspected child abuse.
Cooper Township Polling Place Change
COOPER TWP.- The Clearfield County Board of Elections has moved the Cooper Township 2nd precinct polling place to the St. John Lutheran Church.
German Students in Brockway
BROCKWAY- The Brockway Area School District is hosting 18 students from Germany as part of the district's annual German-American Partnership Program.
Pa Record Low Number of Traffic Deaths
HARRISBURG – The number of highway deaths on Pennsylvania roads tumbled to a record low last year when 1,208 were recorded, the lowest number since record-keeping began in 1928, PennDOT Secretary Barry J. Schoch announced today.
Eating Disorder Awareness & Education Legislation
HARRISBURG – Senator Chuck McIlhinney (R-10), Senator Daylin Leach (D-17) and Representative Steven Santarsiero (D-31) unveiled a proposal today that would improve education, identification and treatment of eating disorders.
End of XP may Cause Problems
(AP) — Microsoft support for Windows XP ends today.
The popular operating system has been around for 12 years, and an estimated 30 percent of businesses and consumers are still using it.
Superior Court Upholds Spotz Conviction
CLEARFIELD - Clearfield County District Attorney, William A. Shaw, Jr., announced today the Superior Court of Pennsylvania rendered a decision which affirmed the Voluntary Manslaughter conviction of Mark Spotz.
Landowner Protection Bills Approved
HARRISBURG – Three bills expanding the rights of landowners who are currently leased with natural gas companies were approved today with strong bipartisan support by the full state Senate, according to prime sponsor, Senator Gene Yaw (R-23).
FOW: Jeremy Kromer
CLEARFIELD – Clearfield County District Attorney, William A. Shaw, Jr., announced Clearfield County's Fugitive of the Week for the week of April 7, 2014.
Shaw identified the Fugitive as Jeremy John Kromer, age 33, of Kromer Road, DuBois, Pennsylvania
.
National Work Zone Awareness Week
HARRISBURG – Pennsylvanians will see $2.1 billion worth of highway and bridge improvements this year, $600 million more than originally anticipated due to the state's new transportation plan, and representatives from PennDOT and the Pennsylvania State Police today reminded motorists to drive carefully through the hundreds of work zones they'll encounter this construction season.
Put the "Fund" in Housing Trust Fund
HARRISBURG- Pennsylvania has a trust fund designed to provide money to help build and repair housing in local communities. But state Senator John Blake of Lackawanna County, who hosted a forum on affordable housing on Friday, says the trust fund doesn't have enough funds.
Students Explore Careers with Campus Program
DuBOIS – Students in gifted programs from several area school districts visited Penn State DuBois on Wednesday to explore some options they may have for future careers in technology related fields.
Senate Passes Alloway's Pet Protection Bill
HARRISBURG – The state Senate passed legislation today to strengthen the state's Dog Law by preventing irresponsible kennel owners from operating under false pretenses.
Gabler Appeals EPA Injection Well Ruling
BRADY TOWNSHIP- A petition to overturn the Environmental Protection Agency's issuance of a permit for an injection well in Brady Township has been put forth by Rep. Matt Gabler (R-Clearfield & Elk).
Brookville Still Looking into Water Park
BROOKVILLE- After a "Town Hall" meeting hosted by the borough council in early February prompted several suggestions on how to improve Brookville, the Community Resources Committee has been working diligently on some of the suggestions, specifically the possibility of building a splash park at the Dr. Walter Dick Memorial Park.
Driver's licenses, motorist fees rise in Pa.
HARRISBURG (AP) — Fees in Pennsylvania to get a driver's license, certificate of title and a range of other records are now more expensive.
Resolution to Study Merging School Health Care Plans
HARRISBURG – The Senate unanimously approved a resolution to review the pros and cons of merging school district health care plans, according to the bill's sponsor Senator David G. Argall (R-29).
First Game on Showers Field
DuBOIS
-
Showers Field in DuBois is now open. DuBois High School played their first baseball games on the field yesterday against Warren.
FOW- Sarah Burke
CLEARFIELD – Clearfield County District Attorney, William A. Shaw, Jr., announced Clearfield County's Fugitive of the Week for the week of March 31, 2014.
Shaw identified the Fugitive as Sarah Elizabeth Burke, age 25, of Scotch Hollow Road, Osceola Mills, Pennsylvania.
Bills Promoting Organ Donation Introduced
HARRISBURG- Senator Don White recently introduced two pieces of legislation intended to promote organ donation efforts and donor designations on Pennsylvania driver's licenses and identification cards.
Pro-marijuana supporters rally in Pa. Capitol
HARRISBURG (AP) — A few hundred people who want the state to change its marijuana laws are taking their campaign to the Pennsylvania Capitol.
Report: Big Companies Avoiding State Taxes
HARRISBURG, Pa. - As the deadline closes in on Pennsylvania lawmakers to pass another tight budget, a report from the Institute for Taxation and Economic Policy shows that profitable Fortune 500 companies around the country pay little in state corporate income taxes.
Natural Gas Energy Development Grants Awarded
CLEARFIELD COUNTY- Businesses and organizations
in the 25th Senatorial District will receive more than $798,000
in state
Natural Gas Energy Development Program grants
,
according to Senator Joe Scarnati (R-Jefferson).
Police Enforce School Zone Speed Limit
CLEARFIELD-
The Clearfield Borough Police Department conducted School Zone enforcement activities Friday as part of a Special Aggressive Driving Funding Project.
Local Officials Participate in National Campaign
CLEARFIELD COUNTY-

The Clearfield County Area Agency on Aging, Inc. (CCAAA), along with six local officials, participated in Community Champions week, formerly known as Mayors for Meals. This is part of the national March For Meals campaign, organized by the Meals On Wheels Association of America and designed to raise awareness for senior hunger.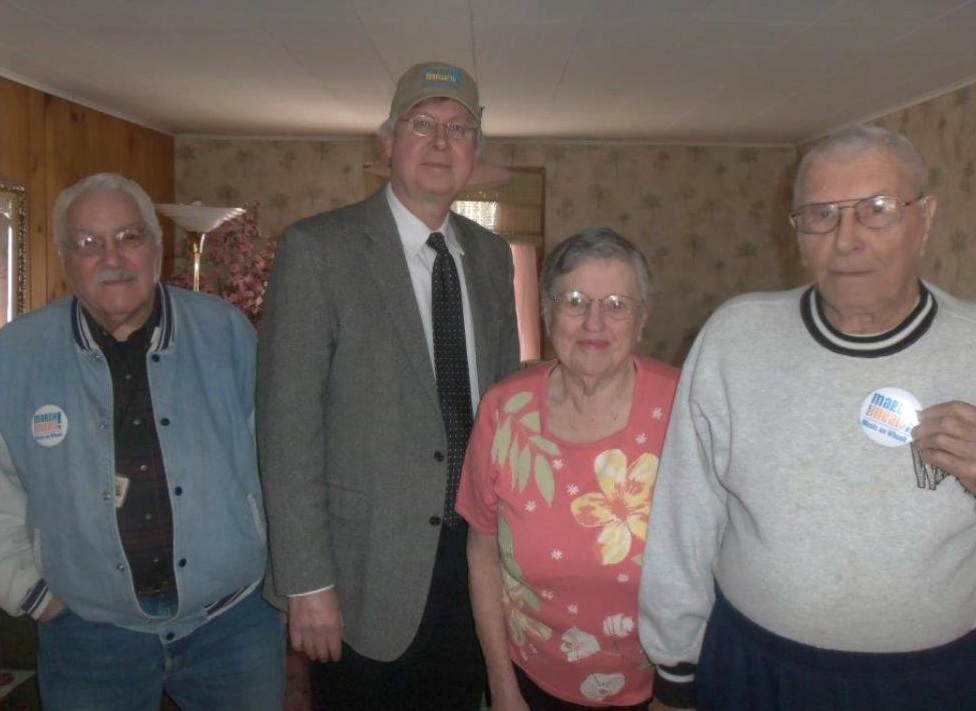 Brush Fire Season Approaching
BROCKWAY-Brockway Fire Chief Jeff Fustine reported that the fire fighters have responded to 4 calls in the township since the last meeting. He noted that we are moving into a critical fire season, and cautioned area residents to be very careful with brush fires throughout the dry conditions before vegetation begins to grow.
Prescription Drug Monitoring Legislation
HARRISBURG – The Pennsylvania Senate Public Health and Welfare Committee on Wednesday reported three bills out of committee, including prescription drug monitoring legislation, said committee chairwoman Sen. Pat Vance (R-Cumberland/York).
Township May Burn Cemetery Hill House
BROCKWAY- At their regular March meeting, the Snyder Township supervisors continued with the next steps in cleaning up the Lees' property on Cemetery Hill which was found to contain a meth lab last September.
Small DuBois Brush Fire
DuBOIS- Firefighters were able to extinguish a brush fire in DuBois quickly yesterday.
Captured FOW –Brandon Sass
CLEARFIELD – Thanks to an anonymous tip to the Clearfield County Crime Stoppers the Fugitive of the Week, Brandon Scott Sass, age 23, of Susquehanna Avenue, Hyde was captured.
Severance Tax on Marcellus Shale Natural Gas Industry
LUZERNE COUNTY- Senate Democratic plan for a fair and reasonable severance tax on the Marcellus Shale natural gas industry in the commonwealth has been unveiled.
Census: Pa. Population Increases Slightly
PITTSBURGH (AP) — Pennsylvania's population rose modestly last year, as did counties around Philadelphia and Pittsburgh.
Jack Wagner drops out of Pa. governor's race
HARRISBURG (AP) — Jack Wagner says a lack of money prompted him to drop out of the Pennsylvania governor's race.
Legislation Could Reform Marijuana Laws
HARRISBURG- A state Senator is introducing legislation to reform the way marijuana arrests are handled, saying it will cost less and help offenders get their lives back on track.
Hit and Run leads to Man Hunt
FALLS CREEK- A hit and run Monday night led to a car chase and man hunt yesterday.
Cash Gift Ban
HARRISBURG – Senator Lisa Baker (R-20) and Senator Lloyd Smucker (R-13) today announced plans to introduce legislation to impose an absolute ban on legislators accepting cash gifts from lobbyists, principals, consultants and others who seek to influence the legislative process.
FOW – Brandon Sass
CLEARFIELD – Clearfield County District Attorney, William A. Shaw, Jr., announced Clearfield County's Fugitive of the Week for the week of March 24th
is Brandon Scott Sass, age 23, of Susquehanna Avenue, Hyde, Pennsylvania.
Justices Tackle Health Law Birth Control Coverage
WASHINGTON (AP) — The Supreme Court is weighing whether corporations have religious rights that exempt them from part of the new health care law that requires coverage of birth control for employees at no extra charge.
Water Well Project Nearing Completion
DuBOIS- The DuBois water well project will be completed this summer providing the city with a secondary water source. The wells will provide the community with an additional 1.5 million gallons of water per day.
Caller Pretends to be Grandson
PUNXSUTAWNEY- An 80 year old man thought he was sending money to his grandson but it turned out to be a scam.
Big projects in DuBois this Summer
DuBOIS- A dog park is being added to the walkway, potholes will be filled and the W. Long Ave Dollar General could be demolished by June; Those are some of the plans for DuBois this summer.
Captured - Edward Schmidt Jr.
CLEARFIELD – Clearfield County District Attorney, William A. Shaw, Jr., announced the capture of a wanted fugitive.
Shaw identified the Fugitive as Edward Matthew Schmidt, Jr., age 33, of Patton Street, Clearfield, Pennsylvania.
Legislation to Protect Victims of Sexual Assault Sent to Gov
HARRISBURG-

On Tuesday

evening, (March 18, 2014), the Pennsylvania Senate concurred on House amendments to State Senator Stewart J. Greenleaf's SB 681 that would provide court ordered protection for victims of sexual assault. SB 681 will now be sent to the Governor.
Spring Cleaning in Pennsylvania: Get Rid of the Clutter
HARRISBURG - With spring officially here, Pennsylvanians across the state are in the mood to do some seasonal cleaning.
And by following a few simple tips, the process doesn't need to be so daunting.
Scarnati's Rural Regional Community College Legislation
HARRISBURG- The State Senate today by a vote of 42 to 4, approved legislation introduced by Senate President Pro Tempore Joe Scarnati (R-Jefferson)
to create a Rural Regional Community College in Pennsylvania.
Borough Manager Resigns
BROOKVILLE- Brookville Council last night accepted the resignation of borough manager Chuck Gable. Gable is leaving to accept the job as borough manager for Gettysburg.
Penn State DuBois Wrestlers at NCWA Championships
DuBOIS - Coach Matt Park and assistant Josh Knapp traveled to Allen, TX with 10 wrestlers to compete in the NCWA National Championships hosted at the Allen Civic Center just north of Dallas over this past weekend. The PSUD Team finished in 21st place as a team with 21 points.

DuBois Woman Dies in Single Vehicle Accident
HUSTON TWP- A DuBois woman died yesterday after she hit a utility pole and her vehicle rolled over 9 times. 42 year old Tammi Markievich was pronounced dead at the scene, around 10:20 pm yesterday, on Route 255, Bennetts Valley Highway, in Huston Township.
Report: National Parks Bring $444 Million to Pennsylvania
HARRISBURG- National parks, monuments, trails and historic sites are pumping more than $444 million into Pennsylvania's economy each year. Numbers from the National Park Service show more than 9 million visits to Park Service lands in Pennsylvania in 2013.
National Fuel Warns Customers of Utility Scams
ERIE- National Fuel Gas Distribution Corporation ("National Fuel" or the "Utility") cautions customers to be aware of scammers acting as Utility representatives, threatening service shutoff and demanding immediate payment. Utility customers should not respond to these calls and should contact National Fuel immediately to verify the status of their account.
FOW- Edward Schmidt
CLEARFIELD – Clearfield County District Attorney, William A. Shaw, Jr., announced Clearfield County's Fugitive of the Week;
Edward Matthew Schmidt, age 33, of Patton Street, Clearfield, Pennsylvania.
First Wave of PennDOT Fee Increase
HARRISBURG (AP)- Pennsylvanians will soon be paying higher fees for a host of motor vehicle and driver services from the Pennsylvania Department of Transportation.
Bill to Stop the Use of Summer Special-Blended Gasoline
HARRISBURG- A state Senate Committee has approved and sent to the floor a bill designed to help ease the pain this summer when some Pennsylvanians go to the gas pump.
Clear Creek Bridge Re-Opens Months Ahead of Schedule
HEATH TOWNSHIP- The new bridge carrying Route 949 over Clear Creek near Clear Creek State Park in Heath Township opened to traffic by the end of the day, Friday, March 14, months ahead of schedule.
No More Stalking, Harassment and Threats Exemptions
HARRISBURG
– Highlighting a special state criminal code exception for business management and labor unions in the Commonwealth, the House voted to prohibit stalking, harassment and threats of violence for everyone, House Majority Leader Rep. Mike Turzai said today.
Protection Bills Approved by Senate Committee
HARRISBURG – Legislation aimed at expanding the rights of landowners who are currently leased with natural gas companies was approved today by the Senate Environmental Resources and Energy Committee, according to Committee Chairman Gene Yaw (R-23).
Man Attacks Girlfriend and 2 Officers
DuBois- A man attacked two police officers while being arrested for smashing a glass bowl over his girlfriend's head.
DuBois State Police Investigate Tax Scams
DuBois -

As people go to file their taxes they are discovering that someone else already has. DuBois State police are investigating reports from two local men who went to file their taxes and found out that someone else already had with their social security numbers.
New Bridge Opens
HEATH TOWNSHIP- The New Bridge on Route 949 is Expected to Open Friday in Jefferson County.
Microsoft Scam Reaches the Area
CAMERON COUNTY- Do you use Microsoft? Well Microsoft will never call you to fix your computer using remote access. But there have been reports of people calling pretending to be from Microsoft and asking the victim to help them gain access to the computer so they can fix a problem.
Lions, Tigers, Bears: March Madness Mascots at Risk
HARRISBURG - Whether it's the Pitt Panther, Penn State's Nittany Lion or Bucknell's Bucky Bison, mascots are the faces of colleges and universities across Pennsylvania.
Local Gun Burglars Arrested
CLEARFIELD –

A DuBois couple has been charged for three local gun store burglaries as part of Operation Sportmens Delight. Police say 25 year old Brett Andrew Moore of DuBois, broke into the gun stores by smashing the front doors and his wife 24 year old, Nicole Moore was the getaway driver and lookout. Over 20 guns were stolen.
St. Patrick's Day DUI Strike Force
CLEARFIELD -The Clearfield County DUI Strike Force will conduct roving patrols this weekend as part of the Saint Patrick's Day impaired driving enforcement period. PennDot shared some Myths about alcohol before the Saint Patrick's Day celebrations begin.

High Court Refuses to Hear PA's 'Free-Speech Bracelets' Case
EASTON - Two Pennsylvania girls have won their legal fight to wear breast cancer awareness bracelets in school, after some considered them inappropriate.
More...